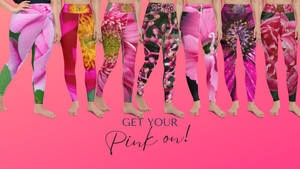 Welcome to YoniFlower Collections! A woman-owned small business. Fun. Unapologetic. Confident. We design with bold flowers, dynamic patterns & subtle neutrals to give you activewear that is 100% unique...like you!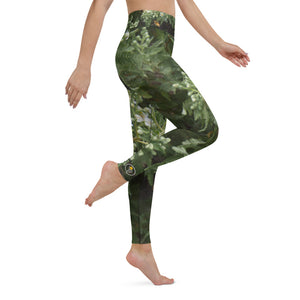 Our Leggings
Whether you're into full length leggings, cool capris, or spiffy shorts, we've got the yoga leggings of your dreams. Full of the most unique joy, flowers, whimsy and fun, even better is that they're good for the planet!
We're committed to making YoniFlower Collections one of the most environmentally-friendly activewear companies around, made to be "slow fashion," lasting far longer than most. (Our founder still wears her test samples from over two years ago!) When you order it, we make it, skipping overproduction and waste.
That's also why all of our gorgeous leggings are made from sustainable materials, shipped in sustainable mail packaging made from corn starch, and why we use non-harmful dyes and eco-friendly inks like the water-based NeoPigment™ which is absolutely free of heavy toxins, formaldehyde and Alkylphenol Ethoxylates (APE), non-toxic for skin and completely biodegradable.
Learn more
"YoniFlower leggings are the first pair of leggings I've experienced that felt like wearing butter and were tailored to my body. I got an XL size of the yoga pants and was amazed at how comfortable they were. I got the Hydrangea Blues and the print is clear, while abstract enough to visually draw you in to explore more. I give my YoniFlower leggings an excited two thumbs up." - Brenna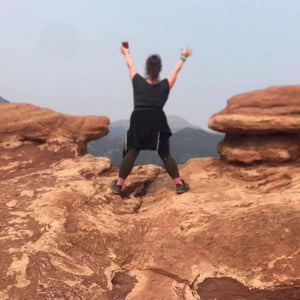 Our Founder
What you find here springs from the mind, eyes, and heart of artist, writer, speaker, and coach, Jené Jackson. She creates designs from her vision and art, everyday photography, urbex, and travels around the world. Every design is 100% unique.

"Why should art be confined to walls or museums? I want to infuse our everyday lives with wearable and practical art, to wear beauty on our legs and dance it into the world. Amazing! Maybe a pair of leggings won't change the whole world...but they might change your day. A little rebellion can shift perspective that extra special bit, to bring change and transformation. Open up new opportunities. Let's step into our power."
Love, Jené
Contact us
yoniflowercollections@gmail.com
(719) 640-0754
Customer service hours: 9 a.m. - 5 p.m. MST weekdays